Here at Maverick, rather than looking to large B2B enterprises to feed our learning,  we prefer to instead take inspiration from B2B SMEs, especially those in the tech space.
Those who are without the backing of million-dollar budgets and instead need to rely on smart thinking and sheer grit to get ahead.
Throughout 2018, there were several B2B technology SMEs who captured our attention as truly innovating, disrupting and pushing the boundaries of B2B marketing to accelerate growth.
For me personally, there were 5 particularly impressive examples which stood out:
Cora Systems – Brilliance in brand marketing
One of Ireland's most successful B2B technology SMEs, we've been really impressed with how Cora Systems have accelerated their position as thought leaders in the project and programme management space.
The value of powerful brand marketing should never be underestimated. Rather than focusing solely on demand generation – a trap that many tech SMEs fall into – Cora have committed themselves to producing an ongoing stream of educational content and resources.
In doing so, they have established a strong brand foundation, which Cora Systems then effectively layer over with their demand generation and sales activities, to truly accelerate the company to the top of a competitive field.
Cora Systems' brand marketing activities range from delivering webinars to releasing their own "Project Management Paradise" podcast and even hosting their own project management events and conferences in target markets worldwide, including partnered thought leadership events in Boston.
Collectively, their activities form a prime example of perfectly executed B2B brand marketing.


Motus – Interactive lead generation and qualification
Few B2B companies outside of global corporates are making clever use of interactive content. However, Motus, who provide vehicle and remote worker management software solutions, have emerged as early adopters.
Motus ask visitors to use their simple assessment tools such as their Mileage Reimbursement Assessment tool to discover how much their platform could help them save per mile, per vehicle etc.
The questions in the assessment are kept simple, yet the responses elicit the required insight for the sales and marketing teams to qualify the leads and tailor a personalised follow up message.
Motus also provide interactive flipbooks which are designed to help prospects educate themselves and make critical business decisions such as "The CFO'S Path to Choosing a Mileage Reimbursement Program" flipbook.

Here, prospects are asked to submit contact details at the end of the flipbook to unveil the result or to download a flipbook, enabling Motus to convert website visitors into prospects.
It's inspiring to see an SME like Motus putting interactive content front and centre of their demand generation efforts and we're bound to see many more B2B SMEs following suit in 2019.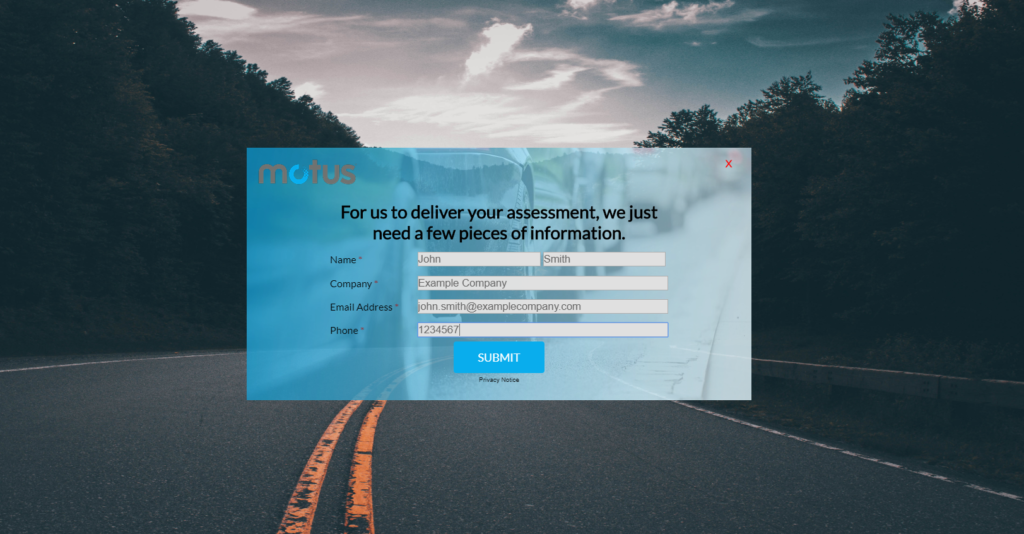 Passle – Injecting personality into B2B
Passle first came to our attention when we attended Ignite 2018, the leading B2B marketing event in Europe, earlier this year where we were lucky to catch an interesting session delivered by the Passle co-founder Tom Elgar.
B2B is consistently accused of being boring and lacking any "human" connection. Passle turn that perception on its head however.
They are true advocates of adopting an "expert to expert", "human to human" approach to their content, placing their own people to the fore of their social media and blog content.
The Passle team are given the freedom to build their own personal brand. They offer their own thoughts and commentary on trends observed, articles, reports or videos they have consumed or insights they have gained from.
They share their own direct "journal like" experience of events attended. Will Eke's ultra-human account of his takeaways from the B2B ABM Conference 2018 is one stellar example.
There appear to be no filters, no barriers, no strict company content guidelines to follow – Passle just allow their team to tell their stories. The result is more engaging content, content that truly resonates with the reader because it reads as authentic.
Passle's approach to their blog content makes for such a refreshing change in B2B.
 When you look at the core of successful content, it's the experiences, stories, and expertise of your employees, who are at the heart of your company.

 Adam Elgar, Co-Founder, Passle
Corvil – Quality content for every buying stage
A key element of Maverick's own global growth guide for B2B companies discusses the important of creating content that resonates with all potential decision makers and influencers at target customer accounts.
This effectively means diversifying the content types that you produce; repurposing blog posts and eBooks into video and infographics or vice versa and using both a mix of rational content (based on logic, appealing to reasons) and emotional content types (tugging at the heartstrings, human-to-human).
We have encountered very few tech SMEs who have created the wealth of content formats and types as Corvil. They appeal to each potential buyer personality and role, through providing a mix of:
Case studies outlining success stories with global firms in core target sectors such as Financial Services, Law Firms, Investment and Trading, Insurance and Telecommunications.
Solution sheets detailing Corvil's integrations and collaborations as well as specific market insights.
Learning videos to guide users through various features and functionality of their platform
On-demand webinars providing tips on topics like "MiFID II: Are You Ready?"
Partnered analyst reports including this Fighting Latency Report for the FX Market
Thought leadership white papers and helpful eBook guides on subjects relevant to their target audience such as "Monitoring & Troubleshooting VoIP".
Datasheets which inform potential buyers about the specific capabilities, performance and technical characteristics of each of their product.
Most importantly, it's evident that Corvil have gone to great depth to ensure each piece offers genuine value. It's one thing churning out lots of types and formats, it's another to provide intrinsic value with every piece.
By investing their time in creating quality resources that provide genuine value, prospects will be more likely to invest their time in establishing a relationship with Corvil.
Their "value-first" and diverse approach to content creation really enamoured the team at Maverick and we felt they offer a golden example of end-to-end funnel content for any B2B tech SME.

Drift – Pioneering conversational marketing
Finally, I cannot finish without including Drift, who are pioneering the "conversational marketing" revolution – and not just through their technology platform.
From the outset, they have been determined to stand out in a crowded B2B communications marketplace by building an authentic brand.
Drift have achieved just that, by actively practicing what they preach and adopting a conversational, human approach to their marketing.
Instead of starting a podcast on "Conversational Marketing" – giving them high opportunity to push their product – they instead started one called "Seeking Wisdom".
Here they discuss foundational truths that help people win in both life and business such as securing the job you want, running effective meetings, scouting talent, making presentations, getting feedback, maintaining autonomy and embracing failure.
Taking this direction with their podcast ensures Drift can engage a wider audience and ultimately get more people talking about their business.
Their efforts at channelling conversations don't stop there. The entire team at Drift get involved in publishing LinkedIn videos to support a product launch and each also play a role in social media and content marketing for the brand.
As a result, their online visibility is significantly amplified, and each team member can emerge as an expert and knowledge leader in their function, strengthening overall brand perception.
Drift do things differently to promote their brand, and because of that, they truly stand out.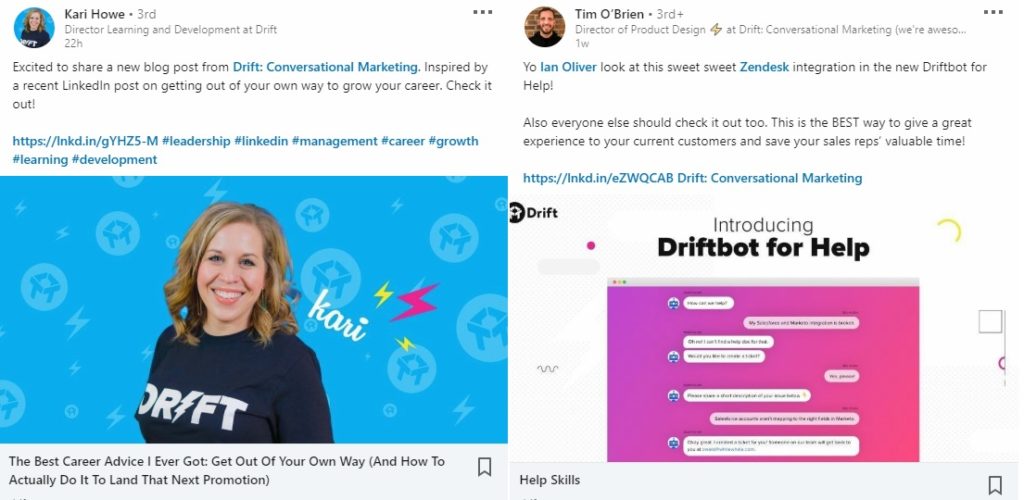 The wheel is turning….
The above 5 examples are just some of the stellar efforts I have encountered. I must also give honourable mentions also to TitanHQ for their highly visual, high-impact remarketing and to SmartBear Software for their excellent efforts in community and advocacy building.
Observing so many B2B SMEs excelling in their marketing efforts reinvigorates my own passion for marketing.
The standard of B2B marketing, even in the tech space, has always been perceived as lagging far behind its B2C counterparts. From what I've observed, and from working with our own clients, that commonly held belief is being fast flipped on its head.