Powerful communications deliver a global competitive edge
In high hygiene environments the wrong door solution can cause major headaches and serious financial losses. For 40 years Dortek has specialised in providing the right door solutions to the world's leading pharmaceutical, nutritional, health and food companies.
'Working exactly as intended. Right first time.'

Dortek's advanced factories in Europe and Asia produce an inherently superior product, a product that's more hygienic, more intelligent, easier to clean, more durable, with a higher quality finish. Doors capable of resisting fire, water, laser and x-ray. Doors that are fire certified in over 50 countries. However, what makes the real difference is the time, expertise and energy Dortek put into meticulously planning, designing and installing each project. Dortek's promise; 'Properly planned, made, installed and serviced. Working exactly as intended. Right first time.'
Selling a solution

Prior to working with Maverick, unlike the new description above, Dortek's sales and marketing communications focused on the product rather than the solution. They knew they weren't doing themselves, or their offering, justice. They searched for a communications partner to bring them on a journey to transform their communications; they found Maverick.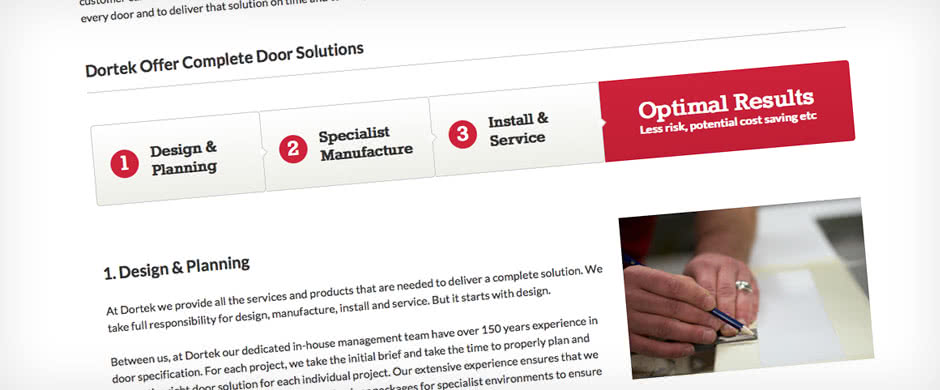 Understanding the customers' world

We used workshops, interviews and online research to develop a deep, clear understanding of the company, its customers and its competitors. Telephone interviews with several of Dortek's customers provided invaluable insights. We defined a clear market position for the offering and agreed a clear, achievable marketing communications strategy.

Crafting powerful communications

We crafted an engaging, persuasive pitch for the Dortek offering. We defined the brand personality; the tone of voice and visual style. We helped create all the required copy, illustrations and images. We planned, designed and built an engaging, persuasive, comprehensive new website. The site addresses the needs of three key audiences; end customers, architects and quantity surveyors.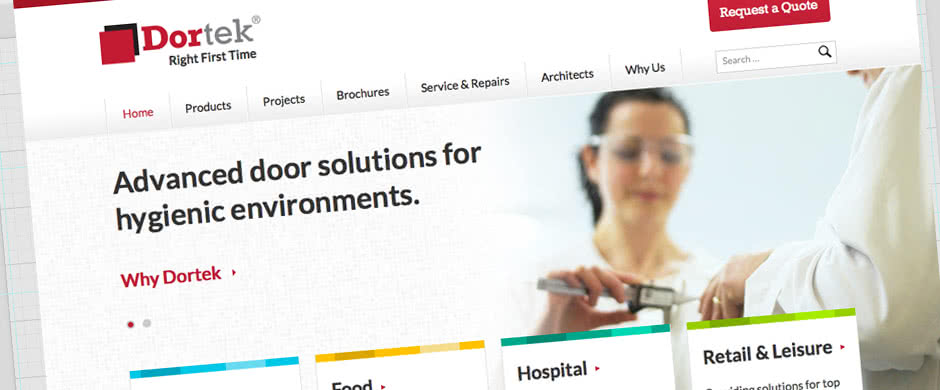 Making a difference

The new website went live in November; www.Dortek.com. In 2014 Maverick and Dortek will be working together to roll out and develop a series of marketing tactics to develop new leads and more deeply engage current prospects and customers.
Our journey with Maverick has been hugely positive. It has helped us more clearly and more deeply understand ourselves and sharpen our message. We are delighted with our new communications approach and our new website. Both are already making a difference.
Alan O'Keane, Managing Director, Dortek