When searching for a station on an analogue radio, there is a precise point on the tuning dial where that station is crystal clear. Outside that sweet-spot, the sound is drowned by static. Are your prospects hearing you clearly or is your message lost in the noise?
Branding and communications in the B2B world is mostly out of tune, with the audience often hearing a message obscured by static. When your branding and communications are unclear, company growth is hindered, often in more ways, and to a deeper level, than you realise because in the digitized marketplace, these effects are amplified.
Today, much of how we research, select, evaluate and engage with providers takes place digitally. In this environment, a lack of clarity can be confusing for your audience. Perfectly tuned communications, however, can help you cut through and engage with your sweet-spot prospects, anywhere, anytime.
The precisely tuned B2B broadcast is clear, with all parts fully aligned, which means the audience engage and want to hear more. Sales take less effort; conversion rates are higher, and your business has a greater possibility of realising its potential.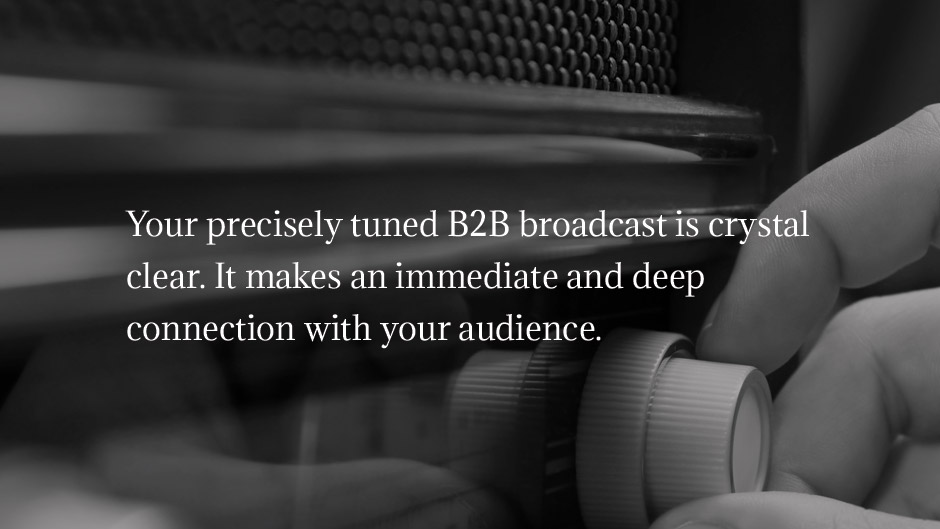 So, is your current brand and communications in tune?
Chances are they are more out of tune than you realise. In our work at Maverick, we see that senior executives almost always overestimate the clarity and quality of their branding and communications. During initial engagement with clients, we briefly assess their communications and score it out of ten. Most score less than three.
After a few weeks' research, when we understand the company and its audiences more deeply, we review that score, which almost always drops. Invariably, how the company presents itself does not reflect the true value of its offering. The broadcast is unclear and the audiences are hearing a lot of static.
Having identified this problem, however, there is a way forward. It is possible to re-tune your branding and communications so that you immediately stand out, impress and consistently achieve better results, without wasting time spinning the tuning dial.
In our next post entitled "Tuning your communications", we show you how to transform your marketing communications by outlining the nine distinct stages of brand and communications development we follow.
Working through these stages in an orderly and logical fashion will ensure that all parts of your branding and communications are in tune and static-free.