As the final post in our three-part series, this blog wraps up our nine-stage approach to best practice B2B branding and communications, building on the insight gained from our previous two blogs in the series (stages 1-3 and stages 4-6).
In stages 7 – 9, you will discover how to develop effective sales materials consistent with your new brand and communications. We also offer advice on going-live and beyond, suggesting strategies for on-going tuning as you continue to deepen and evolve your communications over time.
7. Develop compelling sales supports
Create sales decks. You now have all the thinking, direction and material to quickly create effective sales materials. Create a clear plan for each piece. Re-purpose what you developed for the website to quickly produce impressive materials, all on-brand and all consistent. A master sales presentation is a key asset, providing sales people with the materials they need to quickly prepare persuasive presentations. Liaise with the Sales Director to plan the overall flow and key segments of the presentation. Next, plan each slide, develop the on-slide copy, add presenter notes, and define the design approach. The key here is to fully define and plan before the design team begin their work.
Produce proposal templates. If your proposal documentation has a significant bearing on your prospects decision making, it then merits planning, writing and designing a comprehensive, compelling master proposal template document.
Redesign physical supports. Redevelop any other physical sales supports your organisation needs, such as print materials or trade show stands and banners.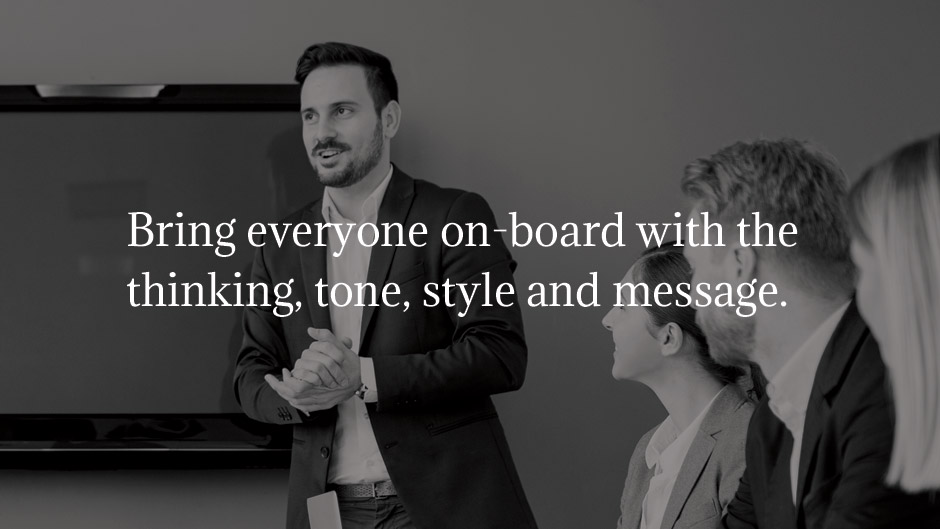 8. On-board and go-live
Bring everyone on-board. Stage 2 of this programme establishes some key fundamentals: what you do, for whom, why you do it, and how you do it uniquely well. A unique brand personality has been defined and a new visual style developed. It's vital to bring everyone on-board with this thinking, tone, style and message, especially management, sales, and service. Plan and execute your on-boarding programme and remember to on-board third parties including any sales, service or marketing partners.
Go-live. Decide on, and prepare for, the day where all the old disappears and all the new appears. Avoid carrying out changes piecemeal and ensure every detail of the new is fully implemented. The website will have the longest timeline, so wherever possible, wait until this is ready to go-live.
9. Nurture and evolve
Avoid inconsistency. Ensure all experiences, touch points, messaging, people and materials stay on-brand. Inconsistency damages trust, both consciously and sub-consciously. Appoint someone to the role of Brand Guardian.
Address website performance and security. It's increasingly important to appoint a technical team with responsibility for monitoring and managing website performance and security. Regular technical checks and updates greatly reduce the risk of serious performance or security issues.
Ongoing tuning. The 9-stage approach outlined here should deliver a brand identity, visual style and website that will not require an overhaul for at least 5 years, although this may be less for early stage companies. Should you need to refine fundamentals, such as your positioning, value proposition or construct in that period, minor communications re-tuning should be sufficient.
Continue to deepen and evolve. Establish a communication development roadmap. Keep adding more detail and more proof, especially stories and video. Keep adding to your image bank and use this material to refresh your website and other key sales supports. Finally, work hand-in-hand with sales and marketing teams to ensure the brand and communications are delivering all they need.