Everyone loves a mathematical formula, right? No? Just us then! When you're responsible for driving demand, awareness and sales for a B2B company, we refer back to a formula or a guide that you might be interested in learning about – and it's a simple one. Some B2B companies focus all their energy on brand marketing, others concentrate on running demand generation campaigns and can overcomplicate the process while few focus on the prospect and lead nurturing which is the end goal. Our tried and tested B2B growth formula offers a simple approach. One which equates to three fundamental factors required to build a strong and steady B2B sales and marketing engine and has proven time and time again to accelerate international B2B growth.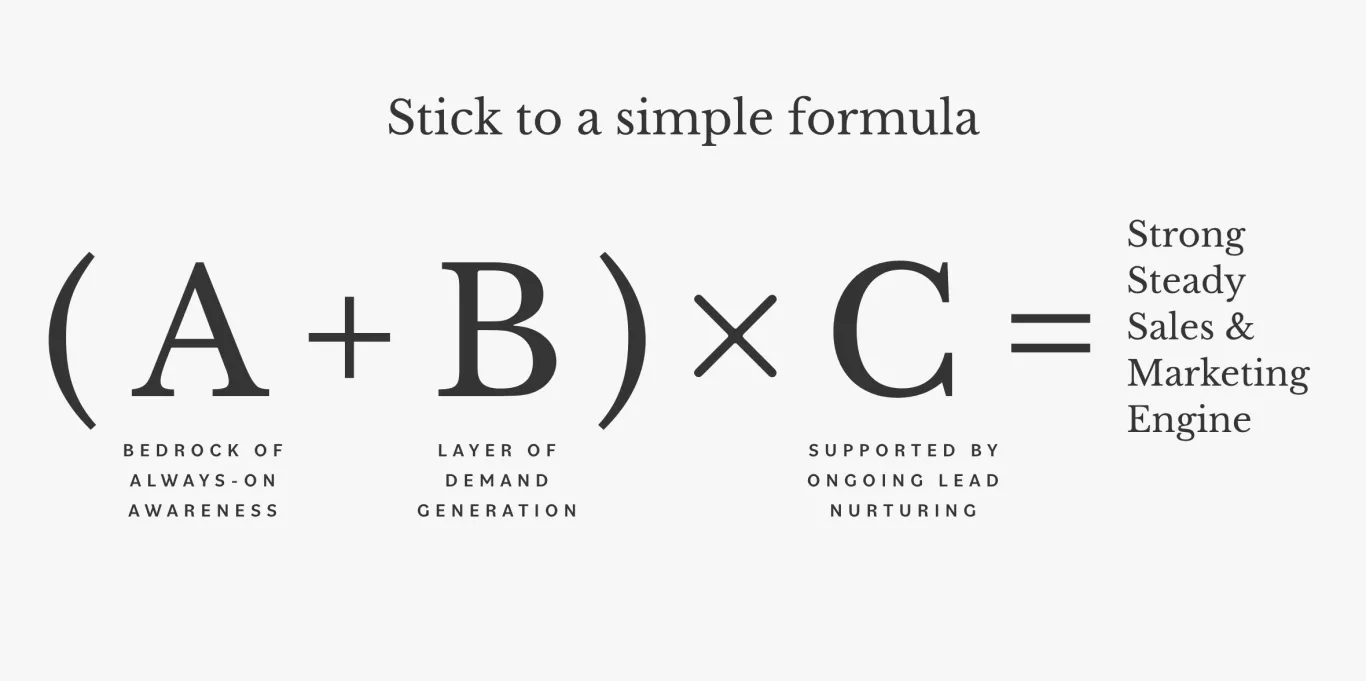 In summary, your brand awareness activities (A) must run in parallel with demand and lead generation activities (B) to successfully penetrate and establish credibility in your market.

Consecutively, (C) ongoing nurturing efforts are required to accelerate the impact of brand awareness (A) and demand generation activities (B) moving engaged prospects through the pipeline to convert into closed deals.

Let's dive a little deeper into the ingredients of the formula……. 

The Key Ingredients


A: Bedrock of always-on awareness

This is the heart of your B2B growth and marketing strategy. Your potential customers are much more likely to engage with your content and demand-generation activities if they know you, trust you and believe in you. The role of always-on brand marketing is to achieve that. To build awareness of, trust in and credibility for your brand.

B2B Buyers are 5 times more likely to engage in sales conversations with known industry thought leaders
LinkedIn & IDC Survey
B2B prospects are increasingly researching and qualifying potential vendors themselves. They will talk to peer groups, ask colleagues and their network for recommendations and search online for different vendors.
Without always-on-brand marketing, you won't be visible during this early discovery stage and so will miss out on consideration in the buying cycle for many in-market buyers.
57% of B2B buyers have already conducted their research before they contact a potential vendor or supplier
CEB, The Challenger Customer
Even if your sales and marketing team manage to engage prospects without a strong backbone of brand visibility and credibility in the market, your conversion to closed deals is weakened.

You may not be able to precisely measure the exact return from your brand marketing activities, for example, the number of prospects driven through events, newsletter e-mails, print ads, display banners, direct mail send-outs, thought leadership content etc. However, what you need to consider is their impact on building credibility in the market and moving engaged prospects to become strong leads and eventual customers.
Consistent brand advertisers generate a 25% uplift in sales consideration while non-brand advertisers experience a decline of 10% to 15%
TechTarget
B: Layout of demand generation

Where brand activities build awareness and credibility, demand-generation activities open conversations. Layering your brand marketing efforts over with "perpetual" demand generation activities – LinkedIn advertising, social remarketing, Google ads, third-party e-mail blasts etc. – enables you to reach out to specific audiences with a specific message.

"Perpetual" means that your demand generation activities are always on, running month after month, quarter after quarter, and year after year to your target audiences. Forget about point-in-time, 30-day, 90-day "campaigns". Switch up the demand generation channels, content and creative that you use, but stay consistently focused on your core audiences.

Buyers don't stop buying just because a campaign has ended. They are not going to pause their buying process while you wait to launch your next campaign.
C: Nurturing to sale

Sales teams are continuously inundated with trying to follow up with "leads" who haven't been qualified and who aren't ready to talk just yet, instead of being able to focus all their time on those who are sales-ready and have intent to buy. 

In B2B, nurturing and qualification require as much focus and attention as brand marketing and demand generation. Once someone enters the funnel via a content download, it's time to get to work on building a relationship and embedding your brand.

The key thing to recognise is that someone who downloads a content piece is not quite yet a "lead". Despite fitting your target profile, they're still just a "prospect" at this stage. It's important that these two terms should not be confused as one of the same. A "prospect" is someone who fits your target profile and has expressed interest in your products, services or area of expertise. They likely have a long way to go before they consider a purchase.

A "lead" on the other hand, is someone who has expressed intent to buy.
79% of all marketing leads never convert into sales and a lack of prospect and lead nurturing is the common cause

HubSpot
Nurturing your prospects involves staying front of mind through remarketing while feeding them with useful original content – content that helps them do their job better, navigate challenges and address pain points – not sales pitches. 

This key relationship building stage is about getting to know your prospects and getting to know other relevant contacts in their company – connect on LinkedIn, ask them for their opinion, ask them questions.

Only when prospects prove highly engaged and have demonstrated intent should they be constituted as a "lead" and handed to sales for a discovery call. Meanwhile, less engaged prospects should remain on long-term marketing nurturing programmes. After all, buying cycles can be extensive in B2B.

Just because a lead isn't engaged enough to pass to sales now doesn't mean you should give up on them. Just because sales report back that a lead isn't ready to buy now doesn't mean you should shut up shop and forget about them.

Businesses who nurture prospects and leads make 50% more sales, at 33% less cost than non-nurtured prospects

Forrester Research
Continue to nurture your relationships with these prospects through ongoing content marketing, remarketing and e-mail nurturing and you're likely to be their first port of call when an opportunity or need for your products, solutions or services does arise.

The absence of a long-term nurturing programme and strategy is a key factor impacting ROI on your marketing spend.
The Logic Behind the Formula

For marketing to truly achieve your business outcomes and impact bottom line, it needs a long-term view
Regardless of your offering, a B2B sale is rarely an instant, split-second decision. That's why for sales and marketing to truly achieve your business outcomes and impact the bottom line, it needs a long-term view and commitment.

As our step-by-step B2B guide to growing demand and sales in international markets explains, there's simply no quick fix for breaking into new international markets and building your customer base.

Committing to a blended marketing strategy, involving equal focus across all three marketing "buckets" – Brand Marketing, Demand Generation and Prospect Nurturing, continuously, over a sustained period – that's your avenue to success.

That's your path to achieving international business growth.
UNLEASH YOUR ORGANISATION'S POTENTIAL
Transform
Empower your organisation with world-class positioning, marketing and branding.
A highly structured, tried-and-tested programme that will drive transformational change in your branding, communications and marketing. This unique, B2B Marketing programme, has been born of, and honed by, 20 years of focused exploration and practice. In this comprehensive PDF we outline the programme in detail, including the stages, tasks, roles, responsibilities, dependencies and outputs.

Request A Callback
Let's Talk