Global exposure for online masters. Student intake up 64%
With a website and some digital marketing can you sell a two year, €13,000 online masters? To people who have never heard of the University of Limerick and live 6,000 miles away? Persuade people to choose UL over Penn State, Harvard and others?
Attract, engage and persuade a niche, global audience

In late 2012, Maverick began working with the team at UL's Centre of Project Management to develop a complete communications and marketing program to promote their online Masters in Project and Program Management. Our objective was to attract, engage and persuade a niche, globally dispersed audience.
Understanding the customers' world

We used workshops, interviews and online research to develop a deep, clear understanding of the course, its customers and its competitors. We defined a clear market position for the offering and agreed a clear, achievable marketing communications strategy.
Crafting powerful communications

We crafted an engaging, persuasive pitch for the programme. We defined the brand personality; the tone of voice and visual style. We created all the required copy, illustrations, images and video. We planned, designed and built an engaging, persuasive, comprehensive new website.
Magnetic marketing to find the needles in the haystack

Paid advertising on Google delivered global exposure for search queries such as 'online masters in project management'. Google's advertising network was used to extend the exposure beyond search engines. An engaging, professional, persuasive email was delivered to CPM's database of contacts. All tactics led prospects to the website.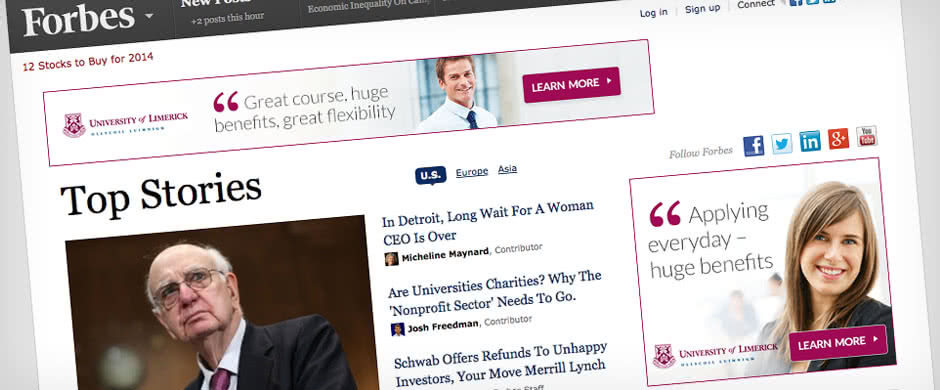 More students, top class standard, less work.

Enrolment jumped from 27 in 2012 to 42 in 2013. The key test was to attract students from beyond Ireland and the UK. UL now has students enrolled in this online masters from Papua New Guinea, Saudi Arabia, Australia, Dubai, USA, Qatar, Kenya and Japan, representing 23% of the intake. The quality of applicants reached unprecedented levels; 48 applications, 47 interviewed, 47 offered a place, 42 enrolled. The website clearly and comprehensibly answered every possible student question resulting in the faculty's enrolment administration falling by more than 70%.

Opening a channel with endless potential

The UL CPM story is a very clear demonstration of the potential for universities to use highly developed communications and precise marketing to attract, persuade and engage post grad students from home and abroad. UL CPM cracked the formula for how to attract international students who have never previously heard of the university. Our target intake for 2014 is 60.